Where We Fall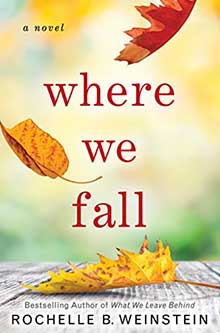 For a trio of friends, the twists and turns of life and love uncover shocking secrets.
By all accounts, Abby Holden has it all. She's the mother of a beautiful teenager and the wife of a beloved high school football coach. And all it took to achieve her charmed life was her greatest act of betrayal.
Coach Ryan can coax his team to victory, but he can't seem to make his wife, Abby, happy. Her struggles with depression have marred their marriage and taken a toll on their daughter, Juliana. Although this isn't the life he's dreamed of, he's determined to heal the rifts in his family.
Chasing waterfalls and documenting their beauty has led photographer Lauren Sheppard all around the world. Now it has brought her back home to the mountains of North Carolina—back to the scene of her devastating heartbreak.
For the first time in seventeen years, a trio of once-inseparable friends find themselves confronting past loves, hurts, and the rapid rush of a current that still pulls them together…
It would be easy to say 'read this book if you or someone you know is clinically depressed,' but that would be shortchanging both Weinstein and her work. I say: read this book if you love a compelling, deeply human story.

A compelling story about young love, betrayal, miscommunication, and most importantly - mental illness. The honest and open way in which this novel explores depression is refreshing....engrossing, thought-provoking...unputdownable read. I would happily recommend Where We Fall to fans of women's fiction.

Worth Getting in Bed For? Yes. The story is riveting... Weinstein tackles an important subject with the focus on depression and mental illness. The attention paid to the manifestation and treatment was thorough and heartbreaking. The characters all suffer from being human and at times may have done something unlikable, but Weinstein still manages to make them relatable and therefore forgivable.

Weinstein is able to write about the complexity of mental illness with such a delicate hand that your heart filled with compassion for the family as a whole...gripping with fierce emotions, you will find it is the realistic aspect of humanity within a broken family that makes Where We Fall a novel that you will love to hate, and hate to love. Either way, it deserves to be read.

Beautiful and poetic… If you're a sucker for true love, with all its ups and downs, then you'll enjoy this novel…

In Where We Fall, we see the consequences and effects of choices made and not made. Weinstein's beautifully relatable metaphors of waterfalls, important life decisions, and depictions of the price we pay for love are just a few of the topics in this wise and insightful read.

I give WHERE WE FALL a 4.5 out of 5. Emotional, heartfelt, and beautifully written with great outdoorsy scenery, this contemporary women's fiction piece hit all the right notes with a story of first loves, first hurts, betrayal, and hope of redemption.