Somebody's Daughter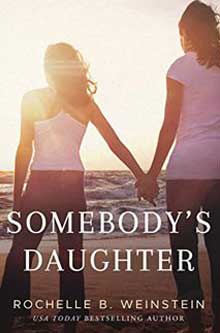 An Emotional Novel for Mothers, Daughters and Anyone Who Has Ever Felt Imperfect.
Emma and Bobby Ross enjoy a charmed life on the shores of Miami Beach. They are a model family with a successful business, an uncomplicated marriage, and two blessedly typical twin daughters, Zoe and Lily. They are established members of a tight-knit community.
Then, on the night of the girls' fifteenth birthday party, they learn of Zoe's heartbreaking mistake—a private and humiliating indiscretion that goes viral and thrusts her and her family into the center of a shocking public scandal.
As the family's core is shattered by disgrace, judgment, and retribution, the fallout takes its toll. But for Emma, the shame runs deeper. Her daughter's reckless behavior has stirred memories of her own secrets that could break a marriage and family forever.
Weinstein has found her latest novel debuting at precisely the perfect cultural moment. *Somebody's Daughter* explores the disturbing rise in cyberbullying?and how women (and mothers) cope with unmerited guilt and shame

A deftly crafted and thoroughly engaging read from cover to cover, *Somebody's Daughter* showcases author Rochelle B. Weinstein's genuine flair as a novelist for narrative storytelling, making it an ideal and highly recommended addition to community library Contemporary General Fiction collections

Touching and challenging, *Somebody's Daughter* is a close-up look at a family that is magazine-cover-perfect on the outside but struggling with the fallout of one mistake that threatens to dismantle everything they've worked to build. With trust, love, and support hanging in the balance, they must each make a difficult choice. And the consequences will either break them apart or make them stronger than ever. An excellent storyteller, Rochelle Weinstein is quickly becoming one of my favorite authors

Gripping and poignant, *Somebody's Daughter* is that novel that you can't stop reading, and then can't stop thinking about afterwards. With vivid characters and an all too real storyline, the novel looks unflinchingly at the world of cyber sexual harassment and the devastating consequences that a few moments of stupidity can have for a teenager. The novel forces us to examine our own judgements, and to look to empathy as we navigate our children through this harsh new world. A must-read for any parent. I loved this book

A poignant story of how one heedless mistake can land a family at the epicenter of a public scandal. Relationships are threatened and judgments are made. I read it in one sitting

A can't-look-away, can't-stop-reading story of truth, consequences, love, betrayal, family, and loyalty. *Somebody's Daughter* is a must-read examination of mistakes that can so easily be made and the destruction and beauty that follow in their wake. Bravo, Rochelle Weinstein, for this timely, evocative read

Timely and timeless in its deft exploration of a family in crisis, Somebody's Daughter pulls you in to the story and makes you think at the same time. Guaranteed to create thought-provoking book club discussions!