This Is Not How It Ends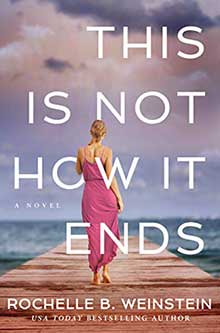 A love story that will break your heart and put it back together again.
When Charlotte and Philip meet, the pair form a deep and instant connection. Soon they're settled in the Florida Keys with plans to marry. But just as they should be getting closer, Charlotte feels Philip slipping away.
Second-guessing their love is something Charlotte never imagined, but with Philip's excessive absences, she finds herself yearning for more. When she meets Ben, she ignores the pull, but the supportive, single dad is there for her in ways she never knew she desired. Soon, Charlotte finds herself torn between the love she thought she wanted, and the one she knows she needs.
As a hurricane passes through Islamorada, stunning revelations challenge Charlotte's loyalties, and upend her life. Forced to reexamine the choices she's made, and yet to make, Charlotte embarks on an emotional journey of friendship, love, and sacrifice—knowing forgiveness is a gift, and the best laid plans can change in a heartbeat.
This Is Not How It Ends is a tender, moving story of heartbreak and healing that asks the question: Which takes more courage? Holding on or letting go?
Readers who enjoy watching a protagonist's journey to emotional truths will appreciate this story of a woman struggling to determine how hers ends.

The journey to the inevitable ending still manages to take some fascinating turns along the way

An immediately and exceptionally engaging novel by a writer with an impressive knack for the kind of narrative storytelling style that rewards the reader with a story that will linger in the mind and memory long after the book is finished.

In Rochelle B. Weinstein's latest, This Is Not How It Ends, Charlotte Myers is caught between two love stories—neither of which she expected, both of which come with great loss. Poignant and evocative, Weinstein has crafted a story that draws you in and won't let go. Keep the tissues nearby, especially for the heartbreaking yet gratifying conclusion. A wonderfully moving read!

A beautifully written tale about love and the unexpected choices we are forced to make. Full of rich description and soulful characters, Weinstein's original story will have you turning pages quickly

Can a chance encounter change your life? For Charlotte Myers, the unexpected will challenge her assumptions about the meaning of love and family, and question her ability to forgive the sins of the past. Elegant and timely, *This Is Not How It Ends* weaves a poignant tapestry of three lives threaded together by devotion and secret passion—and will leave readers guessing until the satisfying conclusion

Set against the backdrop of the vibrant Florida Keys, *This is Not How it Ends* beautifully highlights how two single random encounters can influence the trajectory of our lives. This poignant, character-driven tale about love and the choices we make will make you laugh and cry. A thoroughly captivating read." —Tracey Garvis Graves, *New York Times* bestselling author of *On the Island* and *The Girl He Used to Know*

Weinstein is at the top of her game here. Poignant and unputdownable, *This is Not How it Ends* tackles the heavy hitters—love, loss, betrayal, and forgiveness—and reminds us that in the end, it is always love that wins.

I was engrossed from the first page! This Is Not How It Ends is not just one love story, it's the story of the many ways we love each other, betray each other, and find the strength to fall in love yet again. Vibrant writing, compelling, relatable characters, and the gorgeous Florida Keys setting make Weinstein's latest a must-read!