When We Let Go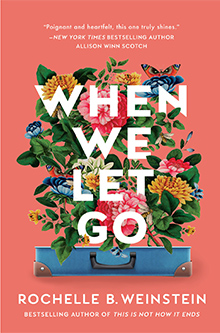 "It's never too late to forgive the mistakes of the past."
When Avery Beckett is proposed to by Jude Masters, a widowed father and the man she loves, it should be a time of great joy. Instead, Avery is on edge. She's wary of the idea of family, doubtful of happy endings, and too afraid to take the leap. It's the kind of fear that comes from having secrets. Before Avery commits to a new life, she must reconcile with the one she left behind.
When Avery returns to her childhood farm in the North Carolina mountains, she's surprised to be saddled with a companion: Jude's teenage daughter, Elle, who's grappling with the loss of her mother and the complicated emotions of first love. On a path of mending wounds and breaking down walls, Avery and Elle form an unexpected alliance. It's giving them the courage to move forward. And for Avery, everything she needs to confront the past.
An emotional tale of mothers and daughters, loss and acceptance, When We Let Go is about the lessons that come from heartbreak and the healing it takes to embrace the joy of a second chance.
Check Out the What You Do To Me Playlists!