Events
Whether meeting with book clubs or speaking at author forums, one of my favorite parts of writing is being able to connect with book lovers, other authors, and those who dream of writing a book. It can happen!
2023
September 30, 2023
The Business of Agents & Publishing - 2PM NSU Alvin Sherman Library
October 7, 2023
Building Author Visibility - 2PM NSU Alvin Sherman Library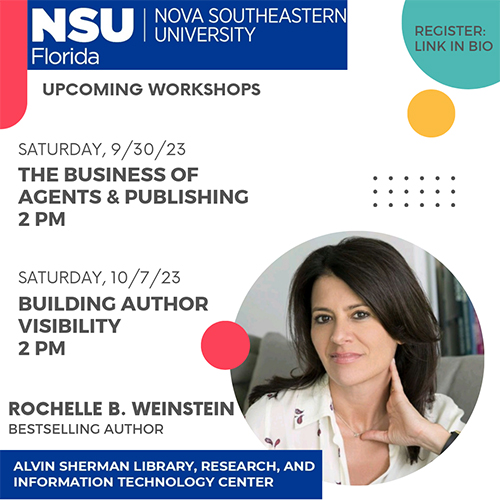 October 16, 2023
Great Thoughts' Great Readers FB Live with Andrea Katz 8 PM

October 17, 2023
What You Do To Me Launch Event with The Good Book Fairy, Details TBA Miami, FL
October 23, 2023
Rye Library Rye, NY 7 PM
October 24, 2023
Renee's Reading Club Live Zoom 7 PM
October 25, 2023
Blue Door Books, Cedarhurst, NY 11 AM
October 26, 2023
Meadowbrook Women's Initiative featuring Bestselling authors Rochelle Weinstein, Elyssa Friedland, and Jillian Medoff
Oceanside, NY
10:30 AM - 3:30 PM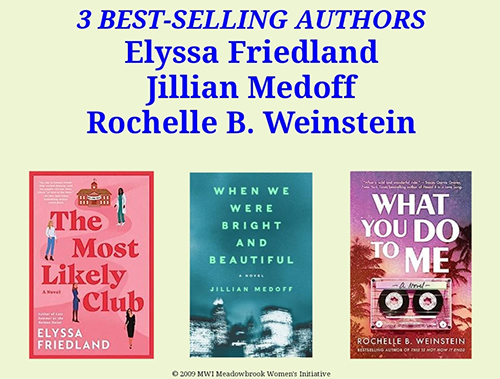 October 26, 2023
The Meadowbrook Woman's Initiative annual Author Luncheon. Temple Avodah in Oceanside. Details TBA
November 8, 2023
In Conversation with Liz and Lisa, Zibby's Bookshop, 6 PM, Santa Monica, CA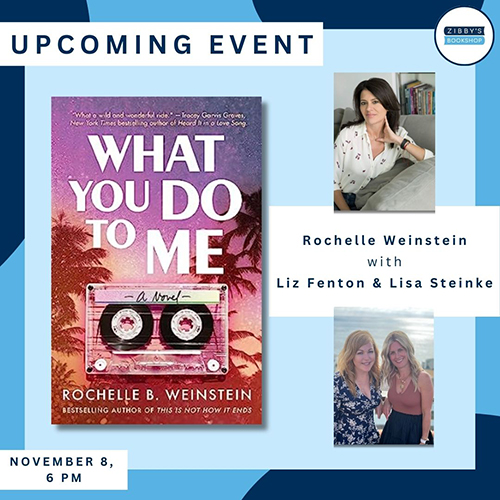 December 5, 2023
Sephardic Community Center, Brooklyn NY - Tuesday, 12 PM
2024
February 4, 2024
Pap Corp Author Luncheon with Pam Jenoff and Lisa Barr. Woodfield Country Club Boca Raton, FL
February 6, 2024
Literature & Libations with Lisa Barr Valencia Sound, Boynton Beach, FL - Tuesday, 7 PM
Previous Events
May 31, 2023
Valencia Cove Hadassah Brunch, Wednesday, 11am
June 20, 2023
In Conversation with Merle Saferstein MAR JCC, North Miami Beach, FL, 7pm.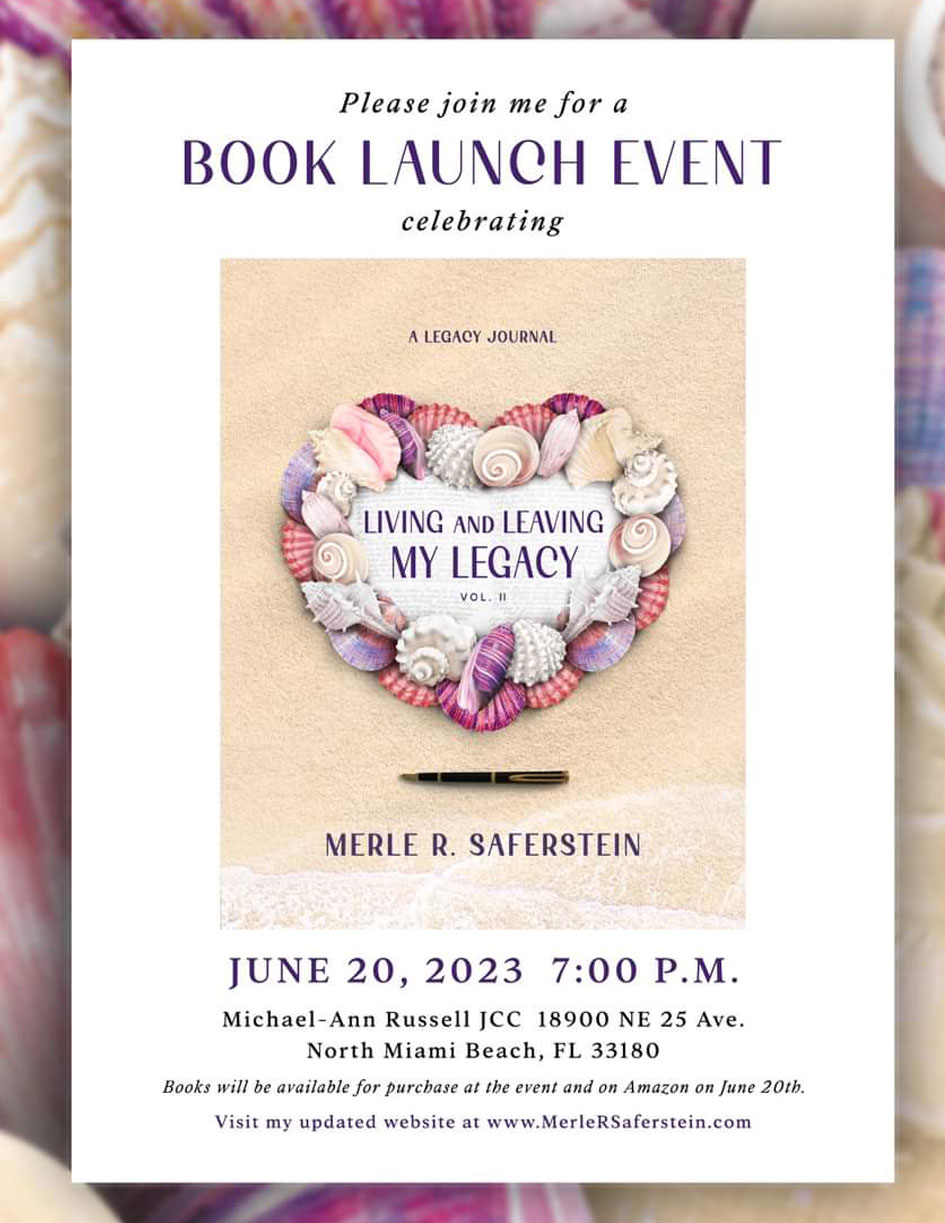 March 28, 2023
Valencia Sound Book Club, 7 PM
March 29, 2023
Miami Beach JCC Wednesday,
12:30 PM - 2:00 PM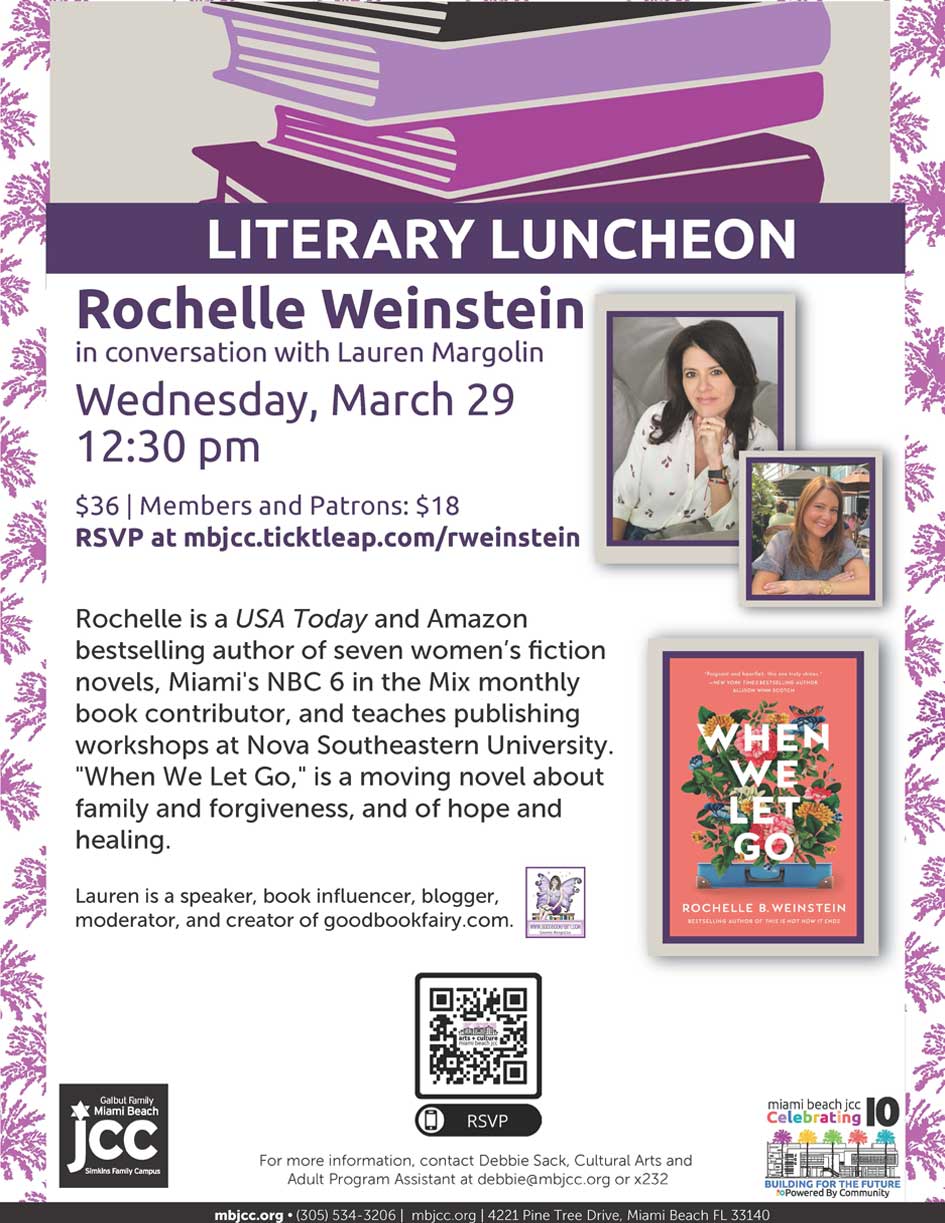 May 3, 2023
JWF Book Club
March 8, 2023
JWF Expert Series, 1:30 PM - 3:00 PM
January 15, 2023
Author Lunch with Lisa Barr, Boca Raton, FL
September 10, 2022
Highland Park Literary Fest with Lauren Margolin - Details TBD
August 17, 2022
How Do We Move Forward? Lessons from Author Rochelle B. Weinstein on Her Book When We Let Go - Online at 12:00 PM EST
July 12, 2022
KC Book Club via Book Club Cookbook Galley Match Program at 7:30 PM EST
July 15, 2022
Private Book Club - Banner Elk, NC at 12:00 PM EST
July 16, 2022
Nova Southeastern University Workshop: The Truth About Publishing at 2:00 PM EST
July 24, 2022
Moms Don't Have Time to Read Books Podcast with Zibby Owens at 9:00 AM EST
August 2, 2022
The Back Room at 7:00 AM EST