What We Leave Behind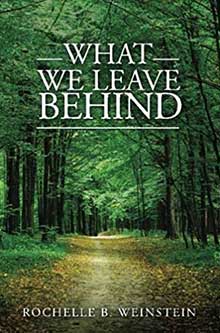 For any woman who has loved and lost and wondered what might have been.
If the one man who was supposed to love you first and best couldn't stick around, what does that tell you about love? What does that tell you about trust?
In the summer of 1984, sixteen year old Jessica Parker is still feeling lost after the earlier death of her father when she meets Jonas Levy, an older medical student. The two begin an intense courtship that leaves Jessica breathless and wanting for more. But Jonas can't give her any more and his departure is hurtful and abrupt. Jessica buries the pain of her youth and moves forward, finding professional success and the love of a good, solid man. Only that love is put to the test when a phone call from New York turns her life upside down.
What secret from her past could possibly threaten to destroy all she thought she knew and believed? At once heartwarming and heartbreaking, What We Leave Behind, is the tale of every woman who has struggled with her past, loved for all the wrong reasons, and wondered what could have been.
Compelling...What We Leave Behind's twists and turns generate real tension, and Weinstein renders Jessica's feelings with enough complexity that her ultimate decision carries emotional weight...[Weinstein] tells a good love story.

What We Leave Behind is a first novel I highly recommend. This is honest, powerful writing at its best, targeted especially at any woman who has ever wondered what might have been

What We Leave Behind is a compelling voice for women who struggle with secrets from their past.

Each word of What We Leave Behind invokes raw emotion as we are brought deeper into the soul of a woman that can be any of us. This moving story will echo strongly with any woman who has had to face love and loss, life and death, and everything in between

A genre of what I'd call 'chick lit but not', because this had so much depth and heart. Filled with heartache, first loves, lost loves, motherhood, marriage, pining, obligations and wonder; this book offered something for all women who enjoy a good read with a heaping dose of romance. Weinstein has a knack for creating realistic scenes, likeable characters, good plot twists and a nicely drawn out ending. Four Stars.

From the moment I turned the page, I was immediately drawn into Jessie's world. The story was intricately woven with the lives of Jessie, Jonas and Marty. What We Leave Behind is a simple yet such a poignant tale of life, love, the choices we make and the result of those choices.