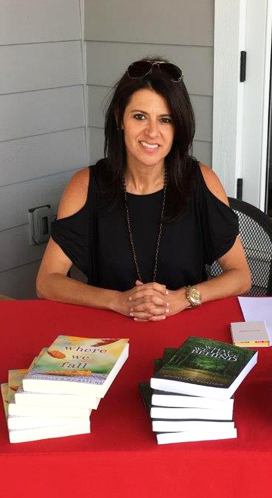 USA TODAY bestselling author of What We Leave Behind, The Mourning After, and Where We Fall.
I was born and raised in Miami, Florida amongst the chaos of three siblings: Randi, Robert, and Ron. I am the baby "R"of the brood and like it that way. After graduating from the University of Maryland, I moved west to Los Angeles, California. There I launched my career at the LA Weekly, where my advertising and promotion responsibilities included hosting film screenings at various studios around LA.
After a colorful few years, I returned to Miami and became an Account Executive at the acclaimed Beber Silverstein & Partners. Later that same year, I landed my dream job through an ad in The Miami Herald. Yes, it can happen. For the next ten years, I managed the advertising, marketing, and promotion for every record label in the country at The Box Music Network. Ensconced on South Beach, our offices were the hub for musicians and record executives worldwide. Work consisted of meeting talented superstars and listening to great music. Fun, right?
My husband and I were married in 1997 and the twins arrived soon thereafter. The Box moved to New York and I opted to stay in Miami. The boys were terrific nappers (don't hate me) and I sat down one afternoon and began to write. 110,000 words later became the raw, unedited version of What We Leave Behind.
Sometime in between PTA meetings, carpool, flag football and basketball tournaments, writing freelance, cheering on the Dolphins and Heat, and volunteering at organizations near and dear to my heart, my second novel, The Mourning After took form. Both explore the human condition, heartfelt emotions, and conclude with a signature twist. Where We Fall, my third novel (Lake Union Publishing), is now available, and I'm so excited about this moving story set in my favorite place: the mountains of North Carolina. Look out for Somebody's Daughter, releasing in Spring 2018. A modern-day scandal which uproots a good family.
Life has a funny way of happening this way. Doors open and close. Avenues await. One path leads to another. I thought life was fun before, but nothing is more fun than this.